ALL CONFERENCE: Youth + Parent & Professionals Institute
Entertainment Hour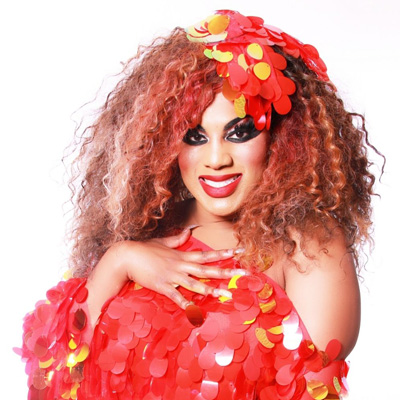 ROXY WOOD
Roxy Wood (she/her) is a trans actress, host and singer who has appeared in a variety of different television programs (Supergirl, Grace & Frankie, 2 Broke Girls, Everything's Gonna Be Okay), movies (Wilson, Anything, Miss Arizona), stage shows and productions. Known as the Bingo Babe prior to quarantine she hosted Drag Queen Bingo weekly at Hamburger Mary's in West Hollywood, CA. She now hosts her own Virtual Bingo "Roxy's Got Balls!" every Wednesday at 6pm (PST) (open to everyone) on Zoom… roxysgotballs.com/.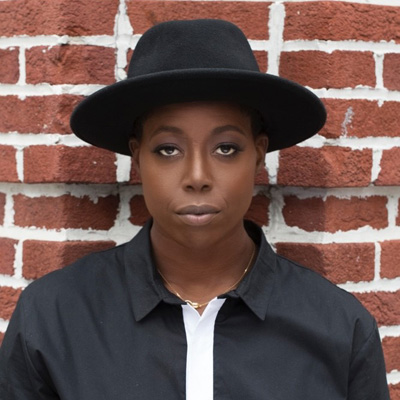 Tish Hyman
Bronx native Tish Hyman released her debut project Dedicated To in 2016 and joined forces with Jill Scott, BJ The Chicago Kid, and Lil Wayne on their respective tours. She's played festivals including Essence Festival and the Roots Picnic, made her acting debut in Spike Lee's movie Chi-Raq, and penned records for Alicia Keys, Ty Dolla $ign, Diddy, Fabolous, and more. Tish's records have amassed over 100 million streams to date on Spotify alone and over 74,000 monthly listeners.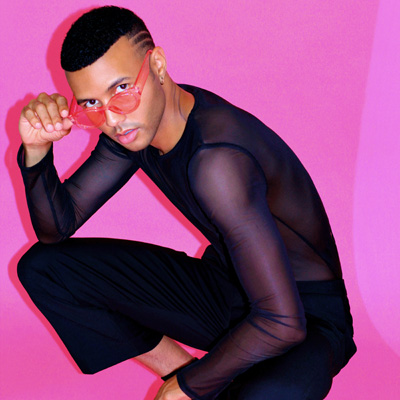 Rayvon Owen
Richmond, VA born Rayvon Owen, is a Pop/R&B artist who cut his teeth studying Commercial Voice at Nashville's Belmont University. After moving to Los Angeles, he released his debut EP "Cycles" in 2014 while heavily touring the country. In 2015 he auditioned for season 14 of American Idol, was able to perform with artists such as Jamie Foxx and Boy George and made it all the way to the Top 4. Since that summers American Idol tour he has released music that has garnered hundreds of thousands of streams, millions of YouTube views, placed on Spotify Viral Chart's and Playlists and has been covered by Billboard, The Huffington Post, USA Today and was featured on The Today Show and iHeart Radio and Elvis Duran's Artist-of-the-Month.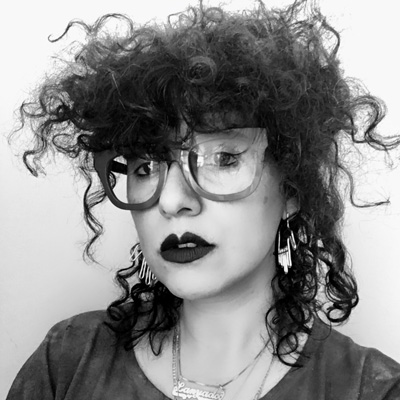 Jessica Lanyadoo
Astrologer & psychic medium Jessica Lanyadoo is the author of Astrology for Real Relationships, and host of the popular twice weekly Astrology + Advice show, Ghost of a Podcast, and co-founder of Zodiac the Vote. She has lectured extensively and has over 20 years consulting experience. For Lanyadoo, no topic is taboo or unworthy of kindness. lovelanyadoo.com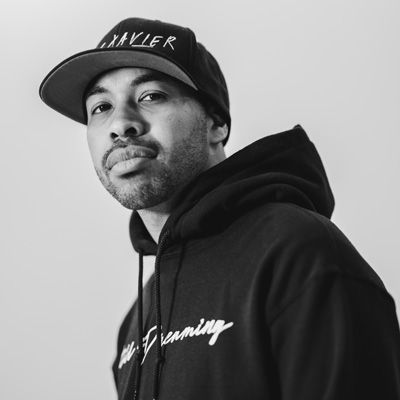 Mike Xavier
It's rare to find a hip-hop artist who appeals to everyone from all walks of life. Mike Xavier does just that, proving himself to be that unique artist through his vivid, relatable, and poetic lyrics. Xavier's generation-defying appeal comes in part because of his clean lyrics and live band. A gifted, smooth, and well-trained group that includes trumpet, keys, guitar, bass, and drums. After years of performing alongside a DJ, Xavier decided it was time to task a crew of expert instrumentalists to help him create a live experience that's unparalleled in the world of hip-hop. They gently wrap his insightful lyrics in energetic and accessible jazz that consistently captivates crowds of all ages.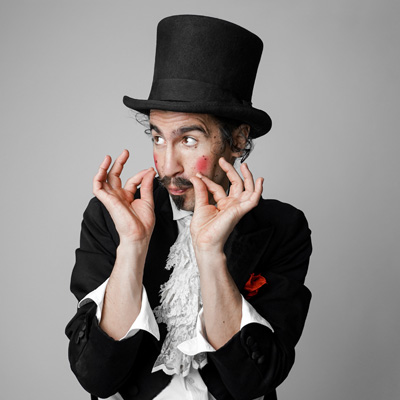 Matthew "Poki" McCorkle
Matthew "Poki" McCorkle (They/them) creates mesmerizing and surreal spectacles. Their acts have been presented around the world including Europe's finest dinner varietè shows in Vienna, Berlin, Nürnberg & Hamburg, Stuttgart; for the Sheikh of Sharjah in Dubai; and Palestine West Bank with Clowns Without Borders. But this was all pre-COVID–nowadays Poki is hunkered down in an old travel trailer just south of Bellingham WA, growing a beard, and hitting a drum. But seriously, the pandemic has provided Poki with a much needed break from the hustle of show business; it has provided the time and space to reflect on and take part in the work of identifying and dismantling systems of oppression in our heads, in our communities, and internationally.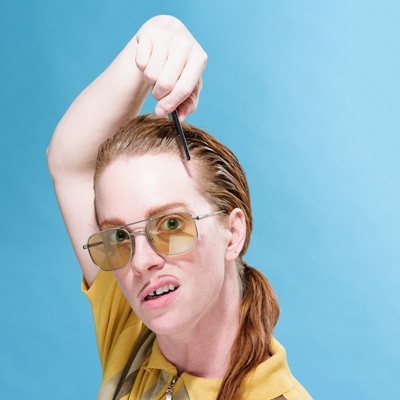 Greasy Bouffanti
Maddy Wager (they/them) performing as Greasy Bouffanti.
Maddy Wager is a character comedian, originally from Oklahoma City. They received their BFA from The Theatre School of DePaul University, as well as improv training, in Chicago. In Los Angeles, Maddy performs original characters at comedy venues around town, teaches exercise classes in character as Tami (@tammercise), and arm wrestles with the LA Lady Arm Wrestlers as Krafty Karen. Greasy Bouffanti has performed at DTLA Proud and is a regular with Them Fatale Drag Kings.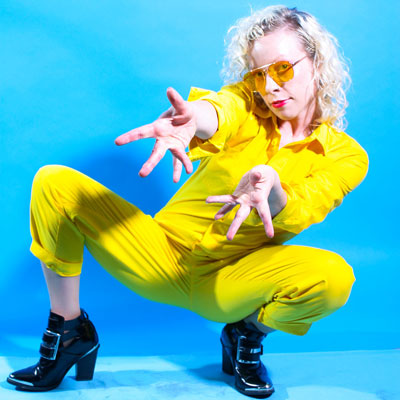 Andrea Burr
Andrea Burr is a versatile dancer, choreographer and educator represented by Go 2 Talent Agency. She has performed with artists such as Rihanna, Skrillex, Diplo, Julia Michaels, Laqrence Rothman and Sheryl Crow. She has appeared on popular TV and awards shows including, The X-Factor, The Voice, Radio Disney Music Awards, and Dancing with the Stars – Bulgaria. Andrea can be seen in Apple Music's commercial for the Avalances, as well as BodyArmor sports drink commercial starring WNBA player Skylar Diggins-Smith. Andrea is a Monsters of Hip-Hop show alumna and works with Heidi Duckler Dance, an innovative site-specific dance company. She teaches regularly at Liv 'Art Dance Studio in Los Angeles and is a faculty member of the Iliev Dance Art Foundation where she travels to Bulgaria to teach. Andrea is currently in graduate school, studying to ger her master's in dance from Montclair State University.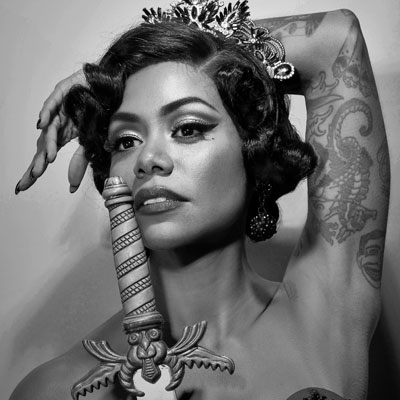 Heather Holliday
Heather Holliday Born and raised in New York City, Heather Holliday started performing in the Coney Island Circus Sideshow while she was still in Highschool. There, she became the youngest female in the world to perform her stunt! Since leaving Coney Island, Brooklyn, she toured the country several times before getting signed with an Australian circus company in 2013. Until 2020, Sword Swallowing made her a full-time international touring artist! Holding tight for this year to end, she eagerly awaits her return to the stage!